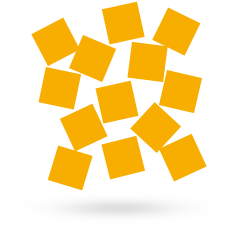 Chaos Bye Bye! was born out of a great passion for organizing. For us, organizing stands for joy, clarity, creativity, simplicity. And like any good thing, it must come from within - that is to represent yourself, your values, your passions, and your personality. Together we will find a system to support you and be easily maintained, and also reflecting your needs and goals.
You sense things pressuring you? You feel like you don't have enough room for all your things and even your mind feels cluttered? Do you tide up only for the chaos to appear again soon? You never have time to put your papers in order?
The solution is already in you. We just have to bring it out. And we will help you do that. Together we will identify the right solution of organizing for you and those with whom you share the space, then we implement it.
Being organized has less to do with the way the space where you live or work 'looks like', but rather with how functional it is. Clutter and mess burden us, whether we realize it or not. We should keep in our space only those objects that we use and cherish.
Life, in its complexity, moves so rapidly today. There are tons of beautiful people and things out there for you.  And you need time and structure to enjoy the abundance of life.
That's why organizing has become an important skill to find harmony and balance for you and the loved ones.